UPDATE: In the summer of 2019, Ted Brooke has retired from his work editing the Upshaw Family Journal and has passed all the materials to me, along with his collection of published books related to Upshaw family history. These materials also include the original correspondence of Grace Jared going back to the 1940's. Please join me in thanking Ted for his dedication and hard work over several decades, to make this information available in a useful, indexed format to researchers of the Upshaw and related families. For future preservation, I want to archive this information in one or more libraries or with the LDS; if anyone knows how to do that or has good contacts to pursue, please let me know.
UPDATE, April 2018: I uploaded a new update to three of the family trees. I've added many more Upshaws and descendants to the database since 2002. A great deal of good information has been put on the Find-a-Grave website by many dedicated volunteers and it is a rich source of information on many Upshaw families. My database now has over 7700 people in it and the online tree of Captain William Upshaw's descendants (link below) has 4399 people in it (the difference being mainly people who are or may be still living). I have omitted the footnoted sources this time, due to privacy issues some contacts have expressed in the past, but can share them selectively for particular ancestors. Also see below under Resources for a massive 2498-page compendium of Upshaw descendants generously provided by Ted Brooke, including the primary and leading secondary sources. Ted has now made all issues of the Upshaw Family Journal available in PDF format for download here. There are four recent volumes which I have not yet uploaded to the site.
Dedication
This website is dedicated to the memory of Nancy Morel Carter, who generously provided me with the massive initial family tree database which I have been adding to over the past 20 years. Her dedication in researching all the Upshaws was inspiring. Sadly, Nancy lost her battle with cancer in 2010, and she is always in mind when I turn to working on Upshaw genealogy.
Introduction
This page is offered as a home base for genealogists researching the Upshaw and related families. I have plenty of room to share if you have related records or pictures to include here. If you have questions about your ancestors, please note that the web family tree (see below) contains all the names and dates for individuals in my database as of April 2018.
More information will be posted at a future date. Please send me any information that I don't have already on individuals in the Upshaw and related families, their siblings, children, ancestors or descendants!
If you are on Facebook, please join the Upshaw Genealogy group for ongoing sharing of genealogy information.
Finally, please send any info you have on the Upcher/Upsher/Upshere/Upshire/Upshaw family in England, which I am collecting in a database in the hope that the overseas link from Essex, England to the Upshaw family of Virginia can eventually be proven.
I have also begun collecting information on the African-American Upshaws (see family tree below), but the information so far is scant and is not connected together well. Progress is slow; any such information you could share on family trees of African-American Upshaws would also be helpful. The same comments apply to the Native American Upshaws (Cherokee, Navajo, etc. tribes and clans).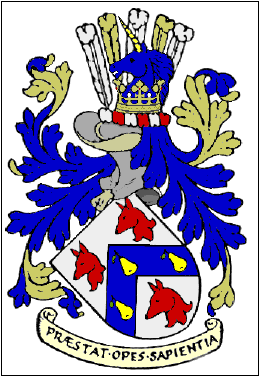 Graphic courtesy of Malcolm Felmingham
[More about the Coat of Arms]
---
Praestat opes sapientia